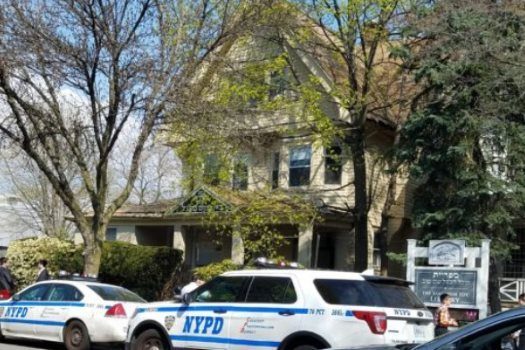 An arrest has been made by the NYPD over the break-in to a Chabad synagogue in Flatbush and the subsequent assault and robbery of its caretaker.
from Yeshiva World News:
An arrest has been made in the assault and robbery of a Chabad Shul caretaker in Flatbush.
Sources tell YWN that a suspect was taken into custody early Wednesday morning in connection with the violent attack.
As YWN had reported on Sunday, the NYPD was looking for two men who broke into the Chabad Shul on Avenue J and East 17 Street and proceeded to the third floor apartment. They broke the door down and assaulted a 45 year old victim – who is the caretaker of the Shul. He was hit with a broom stick and suffered a laceration to his head.
His cell phone, computer and $300 in cash was taken.
Flatbush Hatzolah transported him to a local hospital where he was treated for his injuries.
The NYPD took the incident very seriously and utilized all resources in the case. Thanks to the diligent work of the Detective Squad as well as the Commanding Officer of the 70 precinct, Deputy Inspector James Palumbo, an arrest was made on Wednesday morning. The identity of the suspect as well as charges have not been announced as of this time.
A second suspect is being sought.
Flatbush Shomrim assisted the NYPD is retrieving lots of security camera footage in the vicinity of the Shul.
Police told YWN at the time of the incident that it did not appear that this was in anyway a hate crime, and believed this was an isolated incident.