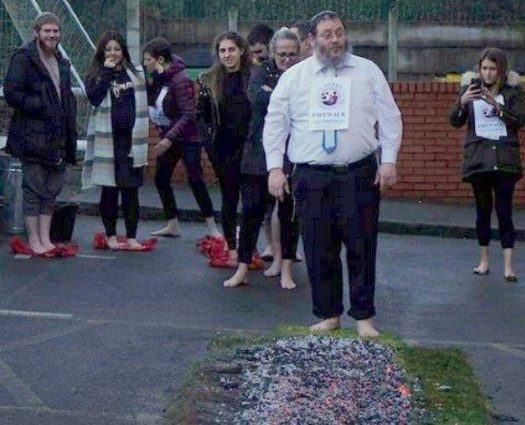 A Manchester Chabad Rabbi and members of his congregation walked barefoot on hot coals to raise money for a charity supporting the elderly, local media reported.
from the Bury Times:
Volunteers and workers at Chabad Community Care, which supports the elderly and lonely in the community, joined Rabbi Dovid Jaffe for a fire walk to raise £5,000 for the charity.
Francesca Moss, Jonathan Moss, Tara Knopf, Debbie Eljarrat, Michael Sharp, Yankie Jaffe, Lauren Jaffe, Esther Frais, Hannah Frais, Yehuda Rose, Elisheva Rose and Asher Abrahams all took part in the challenge at Manchester Maccabi Sports and Social Centre, Prestwich.
Mr Jaffe said: "Chabad Community Care would jump through fire to help the elderly of our community the least I could do was walk on fire."
Miss Moss, who works for Chabad Community Care, added: "It was a truly invigorating experience whilst raising money for an amazing cause."
Michael Sharp said: "However scared or anxious I was about the pain I might go through, the importance of raising money to help those less fortunate than me helped me to overcome my fears."
Chabad Community Care supports the elderly in the community and relies on donations. Anyone interested in visiting or volunteering should contact Tara on 07765497824.