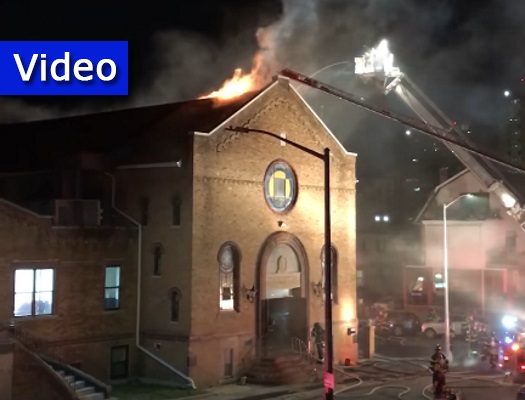 The Jewish community of Sea-Gate, located on the Southwestern edge of Brooklyn, is in shock after a fire ripped through a century-old synagogue, led for the past 25 years by Chabad Shluchim to Sea-Gate Rabbi Chaim and Rivkah Brikman.
from CBS News:
The fire was reported just after midnight at the Congregation Kneses Israel of Sea-Gate on Nautilus Avenue.
It took firefighters more than two hours to bring the blaze under control. By the time it was out, 100 years of history had been destroyed.
"The fire took the main sanctuary and basically the building is gone," said Rabbi Chaim Brikman, who has led the members of the congregation for the last 25 years.
No one was inside or seriously hurt, and the rabbi said the sacred Torah scrolls were all removed.
"It's very difficult because on a holidays we have lots of programs going on, many many people come and it's a festive time, lots of services, lots of get-togethers and this has certainly altered all our plans," Brikman said. "We are going to rebuild, that is absolute."
Members of the congregation say the wiring inside the synagogue was extremely old. The fire marshal is focusing the investigation on the roof of the building as they try to determine what ignited the flames.