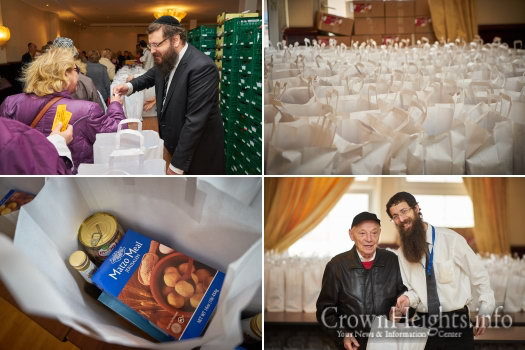 This year, in the framework of its annual efforts to provide for disadvantaged members of the Jewish community of Berlin, over 1,000 welfare-supported Jewish families received generous food baskets in honor of the upcoming holiday of Pesach.
The packages, which were distributed by Rabbi Yehuda Teichtal, Rabbi of the Jewish community in Berlin and the local Chabad Shaliach, and by the Shaliach Rabbi Shmuel Segal, were filled with a wide assortment of food and staple products that enable underprivileged families to celebrate the holiday with all their needs.
The food baskets were filled with matzah, wine and gefilte fish, etc., specially imported from Israel, and locally-grown fruits and vegetables
The community, which presently encompasses tens of thousands of Jews, distributes Shabbos food baskets on a weekly basis to individuals who register in advance and present a certificate of eligibility from the Ministry of Welfare.
At the start of the month, the community posted a message urging people to sign up to receive the annual Pesach package, which is substantially larger than the standard week's.  The distribution was coordinated by Rabbi Shmuel Segal, a Chabad shaliach in Berlin.
"The Jewish community of Berlin is outstanding in its efforts to facilitate the needs of all its members," proclaimed Rabbi Yehuda Teichtal with manifest pride. "The holiday baskets were funded by local donors who wanted to ensure that every member of the community would have all his holiday needs taken care of, so he could celebrate the seder and Pesach with joy and in strict accordance to halachah. I'm honored to wish every Jew wherever he may be a happy, kosher Pesach!"