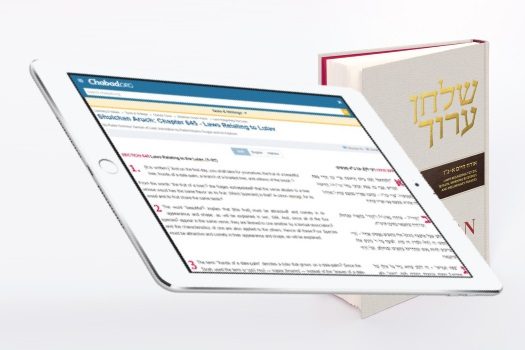 This week's parshah, Vayakhel-Pekudei, begins with a special reminder about the importance of observing Shabbos in all of its details. What better timing to announce that the complete Hilchos Shabbos of the Alter Rebbe's Shulchan Aruch is now available online for the first time.
This extraordinary resource is the result of a unique partnership between Sichos in English (SIE) and Chabad.org, which has spanned more than two decades.
To make this fundamental work of Halacha more accessible, SIE undertook the monumental task of rendering the text in English for the first time, employing a team of scholars, researchers, and designers. They partnered with Kehot Publication Society, who are the publishers of the original Hebrew version. To date, SIE has published six volumes of the Alter Rebbe's Shulchan Aruch.
Following the successful launch of earlier online installments, which included much of the first volume of the Alter Rebbe's Shulchan Aruch, the latest additions include Hilchos Shabbos and Hilchos Tefillin.
A highly specialized engine was developed by Chabad.org developers to seamlessly digitize and elegantly display the Shulchan Aruch, preserving the intuitive layout of its printed counterpart. In addition to the side-by-side display of the Hebrew and English text, features include the ability to browse sources and footnotes.
This project was made possible by R. Yonah Mordechai and Hadassah Weiss and family, and R. Moshe Aaron Tzvi and Ruty Weiss and family, in memory of R. Yisochor Dov and Miriam Weiss.
Browse the Alter Rebbe's Shulchan Aruch online at www.Chabad.org/ShulchanAruch. 
Purchase the printed volumes at SIE.org.