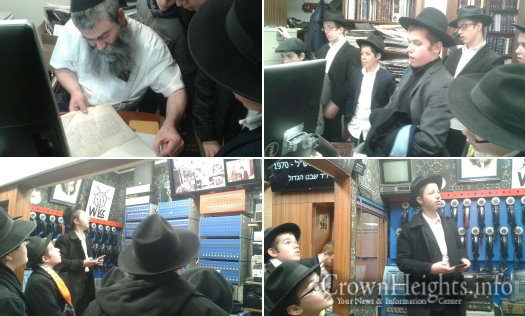 Mechina Boys Take Meaningful Trip to Crown Heights
Between two intense learning campaigns, for Yud Shevat and Yud Aleph Nissan, the Mechina students of Cheder at the Ohel were treated to a fascinating, fun and inspiring trip to Crown Heights.
During their visit to the office of Laha"k, the boys listened with rapt attention as Rabbi Chaim Shaul Brook spoke to them about the Rebbe's process of correcting sichos and maamarim. He showed them many original kisvei yad of the Rebbe and the Frierdiker Rebbe.
This visit was followed by a tour of the WLCC communication room in 770. A student, Mendel Shifrin, grandson of Rabbi Chaim Boruch Halberstam, gave the tour, speaking about the history of broadcasted farbrengens. He accompanied his talk with showing many related pictures and videos, giving a real glimpse into this important part of our past.
A pizza lunch in the Shluchim Office provided fuel for the day, which was followed by a visit to the JEM offices. The students were fascinated by their behind the scenes tour of the process entailed in preserving and publishing pictures and videos of the Rebbe. A highlight was viewing a rare video of a yechidus with the Rebbe.
With Yud Aleph Nissan rapidly approaching, the trip was designed to enhance the boys' hiskashrus with the Rebbe.
The trip was organized by the boys' teacher, Rabbi Nochum Labkowski.