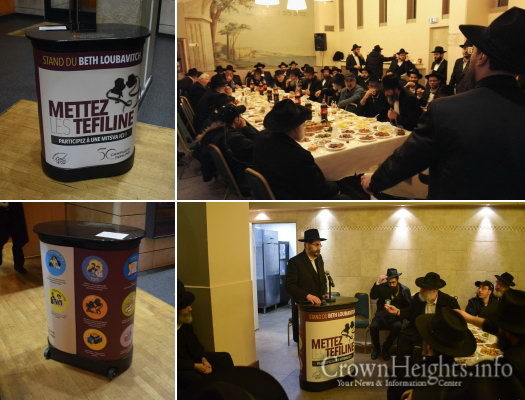 After 50 Years, Tefilin Stand Gets a Makeover
50 years ago, in the lead up to the Six Day War, the Rebbe launched his first Mivtza (campaign), instructing his Chassidim to help any Jewish man they meet to put on Tefilin. The merit of the Tefilin, the Rebbe explained, would protect the Holy Land from harm.
In the 50 years since, Tefilin stands have become a ubiquitous sight wherever Chabad Chassidim reside, staffed by Chabadniks young or old urging fellow Jewish passersby to fulfill the Mitzvah.
At a Melave Malka on Motzei Shabbos, members of the Chabad community in Paris gathered to celebrate another 50 year milestone: the arrival in Paris of Rabbi Shmuel (Moule) Azimov, OBM, who for the remainder of his life would spearhead Chabad's activities in the city and the county as a personal emissary of the Rebbe.
In honor of the dual 50-year milestones, the community unveiled a newly designed Tefilin stand, a beautiful, sleek, state-of-the-art adaptation of the classic foldable table, which will assist Chabad's activities of bringing the Rebbe's Tefilin campaign to even more Jews in the city.
Photos by Mordechai Lubecki