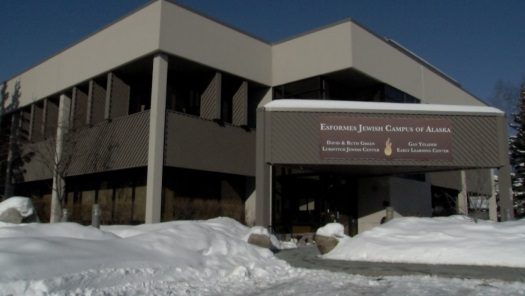 from CBS News Alaska: 
The Chabad Jewish community center of Anchorage, Alaska, was evacuated Monday afternoon after receiving a bomb threat.
Rabbi Yosef Greenberg with the Lubavitch Jewish Center of Alaska, which is located on the Alaska Jewish Campus on East 35th Avenue, said the evacuation occurred around 4 p.m. Greenberg explained that when the call came in, the caller ID showed a number that appeared to be coming from inside the building.
"It was a recorded message," he explained in an interview. "The voice, it was like a male voice and said, 'there's a bomb in your building. You have 20 minutes to leave.'"
The Jewish center has a preschool and afterschool program on site, and Greenberg said there were about 35 to 40 children still at the center when the call was made. Everyone was able to safely evacuate with their coats, he added.