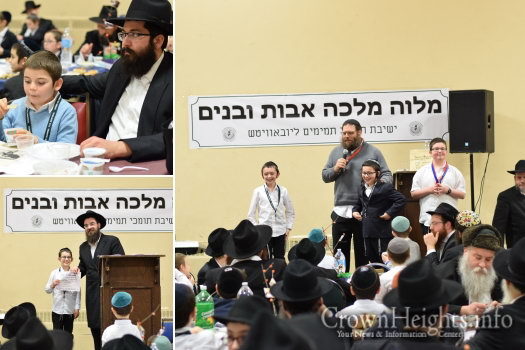 The tables were set, the atmosphere in the room was warm and inviting, the Yeshiva auditorium was transformed ready for the night's event: The annual father and son Melave Malka, hosted by Yeshivas Tomchei Temimim of Montreal.
Every winter when Motzei Shabbos gets longer, fathers join their sons in filling the main hall of Yeshivas Tomchei Temimim of Montreal with the sounds of Torah learning. This year the father and son learning program culminated with a memorable Melave Malka, on Motze Shabbos Parshas Beshashalach, 15 Shvat. Volunteers from the Yeshiva women's committee worked very hard to help plan and organize the event and prepare the lavish meal.  An audience of around three hundred people listened to the Divrei Torah and comments presented by Talmidim and fathers.
The theme of the night was "ki ha'adam eitz hasade" – Man is compared to the tree of the field a centerpiece adorned each table with a branch in a flower pot with small pictures of fathers learning with their sons hanging on the branches. The fathers walked in with their sons, each talmid received a keychain, a raffle ticket and a newsletter by the door. The hall was filling up and the program was ready to start.
After receiting the Rebbe's Kapitel, The Principal Rabbi Moshe Ezagui was introduced, he present the opening words with a meaningful dvar malchus. One of the memorable parts of the evening was when the vice principal, Rabbi Yossi Evers presented a slide show depicting pictures of the various events that took place in yeshiva over the year.  The crowd was very happy to learn about the great things going in yeshiva. Many parents expressed their admiration about the way the yeshiva has captivated and stimulated their son's young mind, and filled his heart with chayus in serving Hashem.
The highlight of the evening was a beautiful Bal Shem Tov story and a captivating performance by Magic Avi. The students and fathers marveled at the illusions and tricks that Magic Avi performed. It was a show full of toichen and kept the crowd entertained while they ate their dessert.