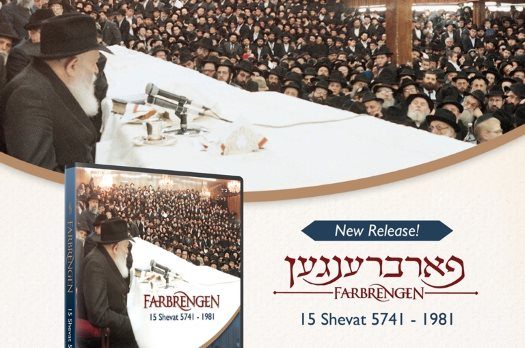 Jewish Educational Media has announced the release of a new Farbrengen, 15 Shevat 5741.
At the start of 5741 (1980-81), Rabbi Hillel Dovid Krinsky, founder of JEM, arranged for every single weekday Farbrengen of that year be recorded on high quality film.
Throughout the ensuing winter, the Rebbe held a number of special Farbrengens on minor holidays and Chassidic days.
The result was an invaluable treasure-trove of priceless footage, which is counted among the most valuable parts of the entire JEM archive.
To date, JEM has remastered and released a number of those Farbrengens, and today, JEM has announced the release of the farbrengen of 15 Shevat from that year. Totally remastered and subtitled in seven different languages, the Rebbe's farbrengen will now be available and accessible to schools, communities, and individuals across the globe.
While each Farbrengen was centered around its specific occasion, the Rebbe utilized this occasion to promote a specific idea: the priceless value of every Jewish child brought into the world, and the infinite physical and spiritual reward that parents will gain from their decision.
With colorful platters of fruit beside him, arrayed on a spotless white tablecloth, the Rebbe elaborates on this topic in length, drawing on the description of the Giving of the Torah described in that week's Parsha, along with the lesson learned from the peculiar date of the New Year for Trees.
To pre-order the Farbengen DVD, click here. To receive each Farbengen at your door, with a 10% discount plus free shipping, click here and join the Farbrengen Club.
The Sichos include:
Celebrating Potential
This Holiday's Living Lesson
Addressed at Sinai
God's Take on Family Planning
Marriage Ushers                
A Deeper Understanding in a Wedding Tradition
Billions of Pennies
The Urgency for Redemption
The Torah of Truth never changes; the lessons of this farbrengen are as relevant as ever.  Buy the Farbrengen, join a local viewing, and get a taste of the fruits of the Garden of Eden.