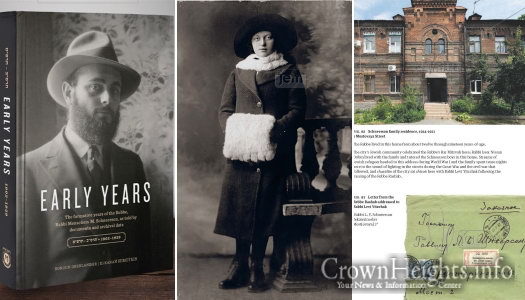 The much-anticipated release of Early Years,  which tells the story of the Rebbe's formative years, is finally around the corner.
The product of ten years of intense labor by a team of researchers and scholars, the 550-page book was written by Rabbis Boruch Oberlander and Elkanah Shmotkin and produced by Jewish Educational Media (JEM). In addition to hundreds of pieces of new information, the book presents over 450 high resolution color images and original documents.
The authors' novel approach in only lightly curating the material, allows the reader to access the original data and to see discover it for  themselves. This approach results in a fascinating read. Even those who consider themselves to be well-versed in the Rebbe's life story are sure to be spellbound by the many new discoveries presented in Early Years.
Among the trove of remarkable artifacts presented in the book is a photo of Rebbetzin Chaya Mushka—daughter of the Previous Rebbe and wife of the Rebbe—at thirteen years old.
The book has been printed and will be released in time for Chof Beis Shevat (February 18).
The list price for Early Years is $42. Pre-order the book by Monday Gimmel Shevat (January 30) and save 10%.   Pre-ordered books will ship before Yud Shevat (February 6).
Early Years: The Formative Years of the Rebbe, Rabbi Menachem M. Schneerson, as told by documents and ar­chival data, 1902-1929, by Rabbis Boruch Oberlander and Elkanah Shmotkin. 550 pages. Produced by Jewish Educa­tional Media. Available for pre-order now from JEM or Kehot. Guarantee your copy. Pre-order now to save 10% and have this incredible treasure delivered directly to your door.