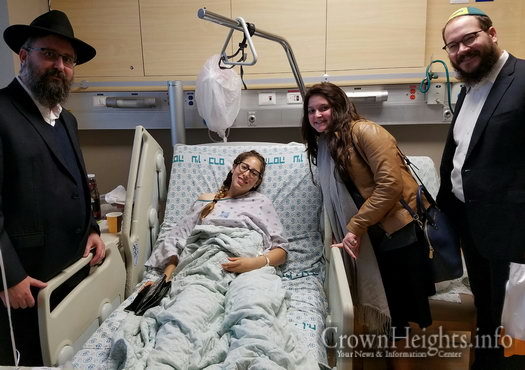 Rabbi Menachem Kutner, Director of Chabad's Terror Victims Project (CTVP), was joined by Rabbi Yaakov Yosef Raskin, Chabad Shaliach from Jamaica, and his wife, Mushka, in a visit of comfort and encouragement to the IDF soldiers still hospitalized following the horrific truck terror attack that took place in southern Jerusalem on Sunday, January 8.
Rabbi Raskin had come to Israel to accompany the Prime Minister of Jamaica on a special visit to the Western Wall.
The Raskins brought gifts and books to the wounded soldiers. They sat and spoke with them, bringing them their caring and concern as well as that of the entire Jewish community of Jamaica. The soldiers were comforted and encouraged by their visit, expressing their gratitude over and over.
Those who remain in hospital and need our prayers for a complete recovery are: Aviv bat Anat, Eiden ben Rachel, and Dana bat Orit. Please pray for their speedy and full recovery.