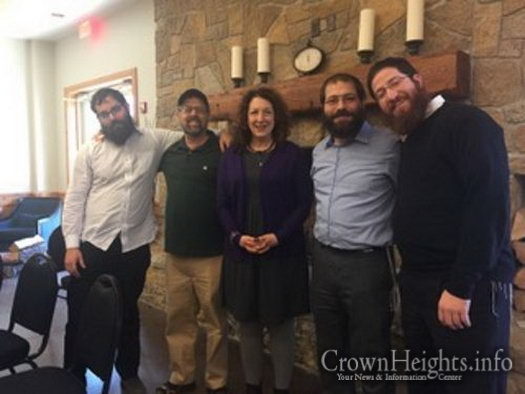 from Chabad.org:
The goal? To make Jewish centers, organizations and places of worship more inclusive for all. The means? The Jewish Leadership Institute on Disabilities and Inclusion at Capital Retreat Center in Waynesboro, PA.
Indeed, Chabad was well-represented at the gathering in mid-December, which focused on the many ways inclusion can and should be a priority for the Jewish community. The three-day conclave, funded by the Ruderman Family Foundation, brings Jewish leaders from a variety of national and local organizations together to learn from an internationally recognized faculty experienced in disability leadership practices.
Participating Chabad-Lubavitch emissaries included Bentzion Groner, director of Friendship Circle International; Zev Baram, director of Friendship Circle of Philadelphia; Sholly Weiser, director of Yaldei Shluchei HaRebbe; and Stephen Shore, faculty advisor at Adelphi University Chabad on Campus and advisory board member of the Ruderman Chabad Inclusion Initiative (RCII).
Groner reflected on the importance of leadership in disability inclusion. "Organizations don't realize how possible it is to include everyone in the leadership of the organization," he said. "Inclusion is not about programs or accommodating people; it is about empowering people to be involved. Inclusion shows that you believe in that person."
The challenge to participants was to think about how they can lead their organizations to be more supportive so people with disabilities can determine what constitutes a quality life.
"I have a better understanding of how to guide others to focus on creating a sense of belonging for people of all abilities, and to make sure that people are able to express their opinions about what they want," said Baram.
He added that he has more questions after attending the program. "My brothers-in-law, who live with disabilities, should have a lot more choice in their lives. But how can that happen when real issues, such as having only one van to transport five people to different events, creates barriers that are difficult to overcome?"
In three short days, participants learned from a diverse faculty with practical experience in the disability inclusion field. Baram met teaching staff from organizations in Philadelphia who pledged to build on the work that his Friendship Circle is currently doing.
Weiser, whose work encompasses supporting Chabad emissaries who have children with disabilities, noted that inclusion in employment and residential opportunities for people with disabilities is "the next frontier."
Shore, a clinical assistant professor of education at Adelphi, appreciated meeting an entire community focused on including people of all abilities with whom he can consult on ideas and strategies to help make Adelphi University—and its Chabad—in Garden City, N.Y., more inclusive. He said Rabbi Yankel Lipsker, director of the Chabad on Campus center, is "100 percent for inclusion."
"Now I can offer more strategies to increase that mission," said Shore, "such as reaching out to campus organizations that support people with disabilities to engage them in Jewish life."