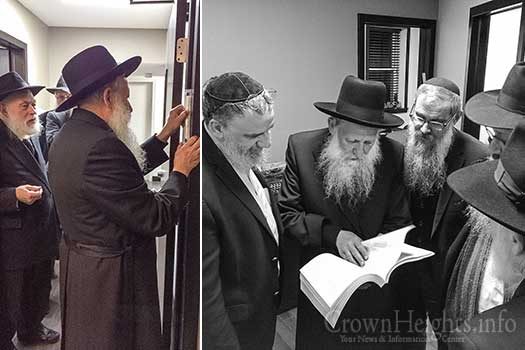 On Hey Teves the new executive offices of Kehot Publication Society were inaugurated, with a group of Kehot and Merkos representatives on hand. Rabbi Dovid Fischer was honor with affixing the Mezuzah on the front door.
On the afternoon of Hei Teves, Rabbi Dovid Fischer paid a visit to the new executive offices of the Kehot Publication Society. He was greeted by the Rebbe's secretary and chairman of Merkos/Kehot, Rabbi Yehuda Krinsky.
Rabbi Fischer was honored by Kehot director, Rabbi Yosef B. Friedman, with affixing the mezuzah on the new office suite, located in the Lubavitch Headquarters complex, at 770-788 Eastern Parkway. Rabbi Friedman shared a photo of the Rebbe visiting the Kehot showroom during his visit to the Baruch Nachshon art exhibit, in 1979, which was housed in the very same offices now freshly renovated.
Joining the impromptu Farbrengen was Kehot senior editor Rabbi Dovid Olidort, and the Kehot production team: Rabbis Yirmi Berkowitz, Avraham Dovid Vaisfiche, and Mendel Laine. Also present was Rabbi Sholom Duchman director of Colel Chabad.
Rabbi Fischer has dedicated many Kehot Seforim over the years, and is an important Kehot benefactor. The production team gifted Rabbi Fischer with the newly released Kehot English Tehillim with commentary by Rabbi Yosef Marcus.
The participants said "L'chaim!" and discussed the various projects currently in the works, which are being sponsored by Rabbi Fischer, including the monumental project of reissuing the teshuvos and commentary on Shas by the "Tzemach Tzedek," in an elucidated edition.
The renovations for the new executive offices were generously covered by an anonymous donor.
The Kehot Hey Teves Mega 30-year sale continues through Friday, Ches Teves.