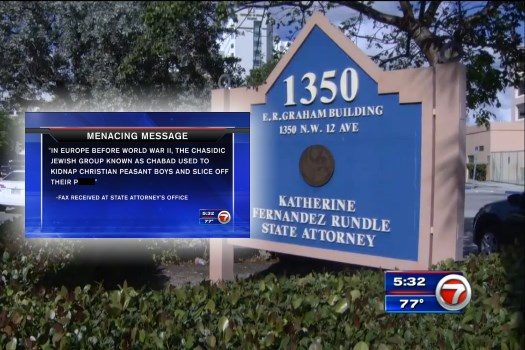 from WSVN Miami:
The Miami-Dade State Attorney's Office is investigating anti-Semitic propaganda that was faxed to their office on Friday.
"In Europe before World War II, the Chasidic Jewish group known as Chabad used to kidnap Christian peasant boys and slice off their p****," the fax reads. "The impoverished Christians of Europe dearly loved their beautiful innocent boys, but the religious Jews viciously mutilated them."
Five faxes containing the message were sent to the office fax machine of Miami-Dade State Attorney Katherine Fernandez Rundle.
"The message itself is just hateful propaganda," said Ed Griffith of the state attorney's office. "The state attorney, as someone who has fought hate crimes, is concerned."
The message is aimed at Chabad, an Orthodox Jewish movement.
"It's horrific that, basically, in this day and age, there's basically a blood libel that people are saying such things, which never happened before, even back then, and they continue in our day and age," Yitz Baron said.