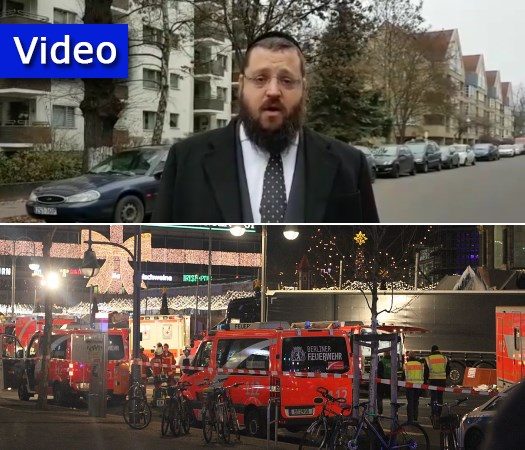 Rabbi Yehuda Teichtal, Rabbi of the Jewish community of Berlin and the local Chabad Shliach, paid a visit today to the Israeli man who was injured in the ramming truck attack that took place yesterday in Berlin, and was updated by the doctors as to his medical condition.
Rabbi Teichtal asked to inform all who are concerned that the Israeli who is hospitalized in one of the Berlin hospitals, that after hearing about his medical condition, the injured man was operated and is no longer in a life-threatening situation, however he is standing before a long recovery process.
In addition, Rabbi says that his staff and he are currently in touch with all hospitals in the city and they are doing their best to try and track this Israeli man's wife, who has not yet been found.
The Rabbi is in touch with the family of the injured Israeli from early morning hours as well and keeping in touch with his personal doctor and will notify them all accordingly.
The Rabbi stated that "I stood right next to the injured man and said some Tehillim and prayed for his full recovery. My community and I will continue praying for his health and we hope to hear good news about his wife too."