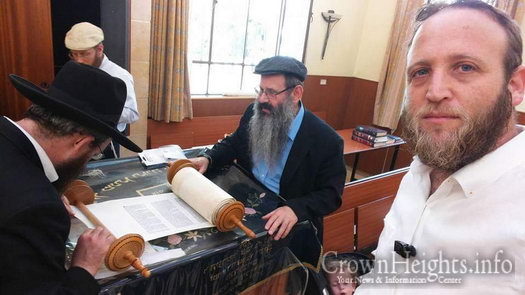 The Sefer Torah that was stolen from the Chabad Shul in the Shaarei Chessed neighborhood of Jerusalem was found and returned to its rightful owners.
A source told CrownHeights.info that the Torah was stolen about a week ago by a Haredi man with a history of mental illness, who routinely steals religious items and tries to sell them.
After stealing the Torah, the man pried off the silver lining on the Atzei Chaim that bear the names of those in whose memory the Torah was donated, so that it could not be identified. He then took the Torah to a Sta"m Merchant with a sob story that he inherited this Torah from his father and needed to sell it to have food for Yomtov.
The merchant took pity on the man and purchased the Torah for a mere 8,000 Shekel (about $2,000).
After CrownHeights.info and many other news sources reported the Torah missing, the story came to the attention of the merchant's wife, who showed the photos of the stolen Torah to her husband. He immediately realized that this was the Torah he had purchased, and contacted the shul's rabbi to have it returned.
In the above photo, the Shul's rabbi, Itche Meir Segal, can be seen reattaching the Torah's Atzei Chaim, which the merchant had removed so that the scroll could be scanned for errors. The scan revealed the Torah to be in perfect condition. Also seen in the photo is Gershon Fraenkel, whose family commissioned the Torah in memory of their loved ones.
The thief's identity is known to the police and he is currently being sought.