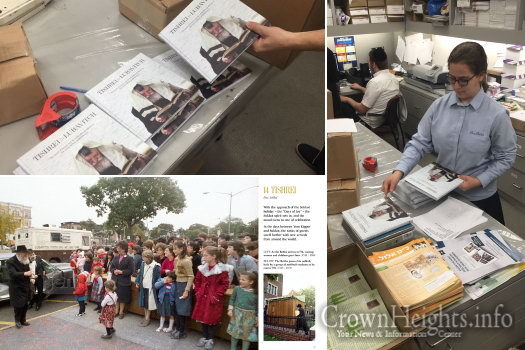 As "a token of gratitude to their children's teachers," a number of parents have gifted Tishrei in Lubavitch, the photo book portraying the Yomim Tovim with the Rebbe, to hundreds of teachers in Lubavitch educational institutions.
Chayolei Tzivos Hashem, Tzivos Hashem's program for schools headed by Rabbi Shimmy Weinbaum, will be sending out the book to teachers affiliated with its program. Gadi and Chana Blizinsky, along with other parents in individual schools, are generously sponsoring the project in thanks their hard-working teachers.
At Beth Rivkah, Lubavitch's flagship girl's school in Crown Heights, members of the new Board of Directors have gifted the 130-page book to the school's 350+ teachers. According to Yerachmeal Jacobson, a member of the board, "Our teachers give so much to our children every day. With the Yomim Tovim approaching, we wanted to give a meaningful gift from us personally to each teacher individually. The board members each participated personally in this gift."
A letter to teachers accompanying the book adds a suggestion: "If time allows, we hope you'll take the opportunity to use this book as a launching pad to speak about the Rebbe, his love for children, and of the special moments and experiences of Tishrei with the Rebbe, in your classroom – with an emphasis not on what was, but on their special connection with the Rebbe as chasidim today."
JEM will also be creating classroom talking points to assist teachers in sharing the book with their students. To check whether your child's teachers will be receiving the book, or to dedicate the gifts for the teachers in your child's school, please contact TishreiInLubavitch@jemedia.org.
Order the book for your family here.