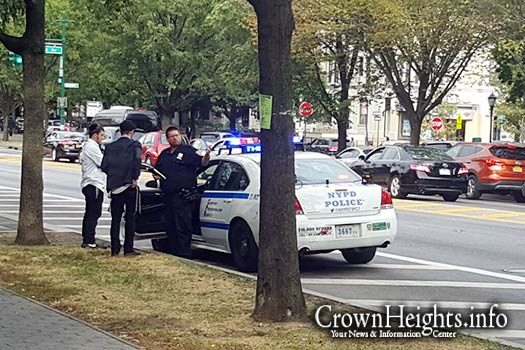 Police Ticket Two Bochurim for Dangerous Crossing
Two Bochurim who dangerously darted across Eastern Parkway in the middle of the busy roadway were stopped by cops and issued summonses.
The incident occurred Sunday morning on Eastern Parkway near Kingston Avenue. A reader observed two Bochurim run across the busy five lane street while dodging fast moving vehicles and apparently a police officer observed this as well.
"The cops quickly came around the corner and stopped the two Bochurim for crossing like that an issue them tickets" the witness said.
"I saw them running in between fast moving cars" said the reader who snapped the photos, "it was crazy and a miracle they didn't get hit [by a car]."
In the past, there have been a number of near tragedies where pedestrians were struck by cars while attempting to save a few minutes by not crossing at the intersection, putting themselves and motorists at great risk.
During the months of Elul and Tishrei police erect barricades in an effort to cut down on this dangerous practice.