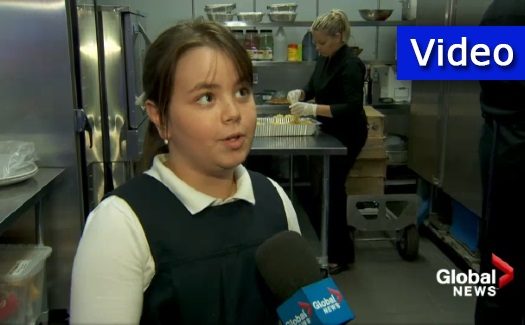 From Global News Canada:
Hunger is a harsh reality in our country, an estimated 2.5 million Canadians live without proper access to food, according to Food Secure Canada.
Many who go hungry are children – and Montreal is no exception to this issue.
At Beth Rivkah all-girls Academy in Côte-des-Neiges, one in 10 kids go to school hungry.
"It really breaks my heart," ten year-old Aliza Gozlin who attends 5th grade said of those kids who don't have meals.
"Children who do not have a proper meal in the morning, their mind is not there, the mind is thinking about their growling tummy," said Rabbi Mendy Rosenfeld, Executive Director of the school. "The teachers tell us they're thinking about other problems, they may have at home."
Two women have come together to change that. Leah Lipkowitz and Julie Gniwisch raised around $100,000 to build two new kitchens where people will prepare meals for the students.