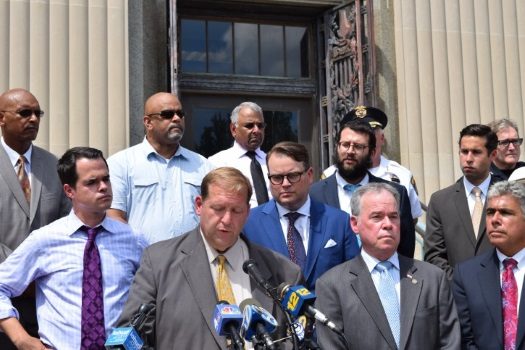 Photo: VIN News
From VIN News by Sandy Eller
It was diverse crowd of more than 50 people of all faiths and ethnicities who braved stifling heat and suffocating humidity on the steps of the Rockland County Courthouse to denounce a hate crime committed this week against two area Chabad rabbis.
As previously reported on VIN News, a group of four unidentified males threw fireworks at the New City homes of Rabbi Avremel Kotlarsky, director of Chabad Lubavitch of Rockland, and Rabbi Simcha Morgensterin, outreach and education director for Chabad Lubavitch of Rockland.  One device detonated under a car in Rabbi Morgenstern's driveway while the other set fire to a large shrub located next to Rabbi Kotlarsky's home.
Dr. Penny Jennings, the Rockland County commissioner of human rights, opened the anti-hate rally held at noon today noting that intimidation tactics will not be tolerated.
"We cannot legislate that you love your neighbor, but we will, and we can and we have legislated that we will live harmoniously and we will show respect," said Dr. Jennings.
County Executive Ed Day called on his own background in law enforcement and described the incident as both an act of terror and a hate crime, before introducing Evan Bernstein the director of the American Defamation League's New York Office who announced a $2,500 reward for information leading to the arrest and conviction of the perpetrators.
Other elected officials in attendance included State Senator David Carlucci, Assemblyman Ken Zebrowski and Clarkstown Supervisor George Hoehmann.
Day said that he will continue his efforts to combat hate within Rockland County and criticized elected officials who do nothing more than issue press releases denouncing bias attacks.
"I am getting out there and dealing with it," Day told VIN News.  "I intend to continue to reach out to every community in the county."
Carlucci said that the rally was an opportunity for concerned citizens to take a stand against hatred.
"Rockland is a wonderful community," said Carlucci. "I represent it and am blessed to do so because we have such a diverse community and that means that cultures sometimes collide.  We have to work very hard to make sure that we bridge gaps that we have seen unfortunately grow in our community."
Myrnia Bass-Hargrove, director of community relations for Rockland County, said that she has seen progress as of late.
"Several months ago we were talking with the Anti Defamation League about things that they thought were not in keeping with a harmonious community and today we stand here with them in partnership to talk about how we can move things forward," reported Bass-Hargrove.
Bernstein said that the ADL is encouraged by the progress being made in Rockland, which includes arranging discussions with local elected officials and members of the clergy.  He hopes that the trend towards improved relationships will continue.
"Now that those conversations have been had, the next step is to start building those bridges, sitting down and having honest conversations," said Bernstein.  "There have been a lot of harsh words through social media and I think that it is critical that we come together in person and do as much as we can."
Rabbi Morgenstern echoed those thoughts, noting that inflammatory remarks on social media coupled with those who are looking to push a particular agenda have created a climate that has made some New City residents suspicious of their Jewish neighbors.  Communication is the key to allaying those concerns, observed Rabbi Morgenstern.
"When people talk things out it always changes the dynamic," said Rabbi Morgenstern, who noted that Chabad has been in New City for 30 years.  'It is much easier to hate or comment on someone that you don't really know."
Marvin Baum grew up in Clarkstown and moved to New City just recently.  He said that the undercurrent of hostility he has faced has been escalating and is difficult to ignore.
"There was a swastika painted on the retaining wall by the courthouse not that long ago and there are people who have approached me and accused me of trying to destroy the Clarkstown schools," said Baum. "I grew up in the Clarkstown schools, have relatives who work in the Clarkstown schools and pay a lot, lot of taxes and yet I'm being accused of destroying the schools."
Baum related that one Shabbos he was walking to the synagogue when he was approached by someone who asked him what Chasidic sect was paying him to live in New City.
"It's as if I'm an infiltrator in my own home town,"  said Baum.  "I understand that there are people who have legitimate concerns, who see things in Ramapo and want to protect their quality of life, but at the same time you don't blame everyone for the actions of a couple of people."
Grant Valentine, a trustee in the Village of Chestnut Ridge whose Jewish population has increased significantly in the last few years, said that he has been approached by several residents who are fearful of anti-Semitism.
"Coming from an African American background, I understand that kind of intimidation and that kind of terrorism," said Grant.  "By coming here today I want to be able to show the community that we are collectively resisting that kind of behavior and this kind of conduct.  We have to make sure that whoever did this faces consequences for their behavior.  Those consequences need to be swift and consistent so that this kind of behavior doesn't expand."
Clarkstown police released photographs today showing fragments of one of the devices that exploded, indentify it as an M-98 firecracker which cannot be sold in New York but can be legally purchased in Pennsylvania.