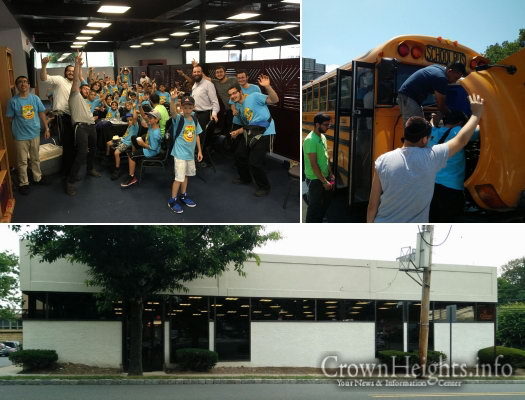 On Thursday, a tremendous act of Chesed and Kiddush Hashem was performed by a New Jersey Shliach and Shlucha, after a bus carrying several dozen campers and counselors broke down on their way back from a trip.
On Thursday afternoon, July 28, over 50 campers and counselors of Camp F.R.E.E. of Flatbush were returning from a trip to an amusement park when their bus broke down in northern New Jersey.
As the hot and humid summer day was becoming just about unbearable for the campers, Rabbi Mendy Kasowitz, Shliach to West Orange, NJ, arrived with his minivan and began to transport all the children and staff to his air-conditioned Chabad House.
The rabbi had to make several trips with his minivan until all the campers and staff were safely at the Chabad House, where Rebbetzin Altie Kasowitz had set up a playroom to help keep the kids entertained. The Rebbetzin rushed to the store and bought cold drinks, candy and cookies for them to enjoy, and led the campers with a few fun games.
One of the counselors who was present was deeply touched by the incident, and sent us photos and described in detail the Shluchim's kind gesture. "The Mexican bus driver couldn't believe his eyes when he saw what complete strangers were doing for us," he told CrownHeights.info.
The weary campers and counselors enjoyed the cold drinks and refreshments, played games and sang Jewish songs in the comfort of the Chabad House until their bus was repaired and ready to bring them back home.