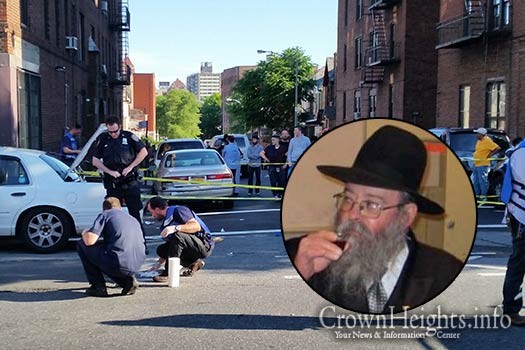 Today, Yud Beis Tammuz, marks the first Yahrtzeit of Reb Yekutiel Rapp, OBM, who was killed in a tragic car accident while crossing a Crown Heights street.
Reb Yekutiel was a beloved Mashgiach at the central Lubavitcher Yeshiva in 770, and directed Chabad activities at New York's JFK Airport.
To mark the occasion, the community is invited to attend a Hakhel Gathering on tonight, Monday, July 18, at Bais Rivkah High School, 310 Crown St. [between New York and Nostrand Avenues], beginning at 7:45pm.
In addition, a 48-Hour fundraising campaign to help Chabad of the Airport has been launched yesterday Sunday, and will end tonight.
Founded by the Rabbi Rapp in 1973, Chabad of the Airport has been bringing the light of Torah and Mitzvos to passengers at JFK for over 40 years. During that time, countless thousands of Jewish travelers have put on Tefillin, received Shabbos candles, performed the various holiday Mitzvos, and been touched by the legendary warmth and smile of R' Kuti.
After his tragic passing last year, his son, Rabbi Yossi Rapp, immediately took upon himself to continue his father's holy work, and Chabad's activity has not only continued, but increased since then, with the start of daily Mivtzoim and the installation of a new permanent counter at Terminal 4 during the past few months. In the past two weeks alone, close to 50 Jews have put on Tefillin for the very first time at the Chabad counter.
This work cannot continue without your help, however. To this end, a 48-hour campaign has been launched to raise $36,000 for Chabad of the Airport by tonight, Monday, 12 Tammuz, R' Kuti's first Yahrtzeit.
Every dollar counts, and will go towards making sure that Chabad's presence at the Airport continues to grow.
Click here to participate in the campaign.