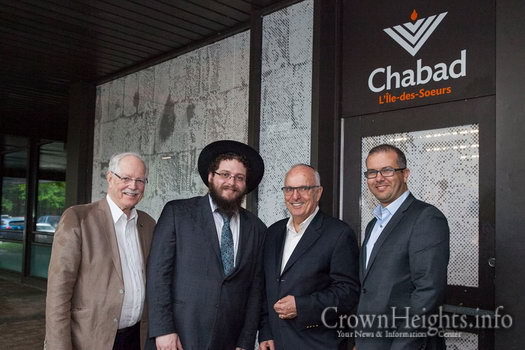 Left to right: Church administrator Roger Legare, Chabad director Rabbi Levi Itkin, developer Samuel Gewurz and mosque administrator Mourad Bendjennet.
Christians, Muslims and Jews are praying literally under the same roof on Nuns' Island in Montreal, where a Chabad synagogue, a church and a mosque occupy the same building, a former mall. And they are not just neighbors – the three groups are working together on common humanitarian concerns; their first joint project is helping Syrian refugees.
From CTV News Montreal:
Three religious groups in Nun's Island have come together under the same roof, hoping to spread a message of peace and unity.
A Jewish Chabad centre, the Al-Jazira Islamic Centre and the Catholic Ste. Marguerite Bourgeoys Church have all moved into the same building, a project that began after the church approached land developer Samuel Gewurz about building a bell tower.
"That was a novel request for me," he said. "I thought about it for a moment and I told him, if we could consider the bells on the tower as bells of unity, then I'm in."