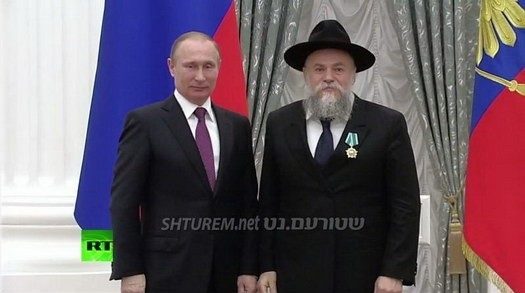 File photo: Rabbi Alexander Boroda receives an award from Russian President Vladimir Putin.
Chabad Leader in Russia Slams 'Blood Libel'
A Chabad Lubavitch leader in Russia condemned a state-funded channel's airing of Palestinian allegations that an Israeli rabbi approved the poisoning of Palestinian wells.
Rabbi Alexander Boroda, president of the Federation of Jewish Communities of Russia, said the RT network's June 27 report on the issue repeated unfounded allegations reminiscent of the medieval "blood libel" against Jews.
The RT report referred to recent reports in Arab and Muslim media which claimed that a West Bank rabbi issued an "advisory opinion" allowing Jewish settlers to poison Palestinian water. A version of the story previously appeared in the state-run Turkish press agency Anadolu, credited to a Palestinian reporter in Ramallah. Neither the rabbi in the story nor the organization he is described as representing appears to exist.