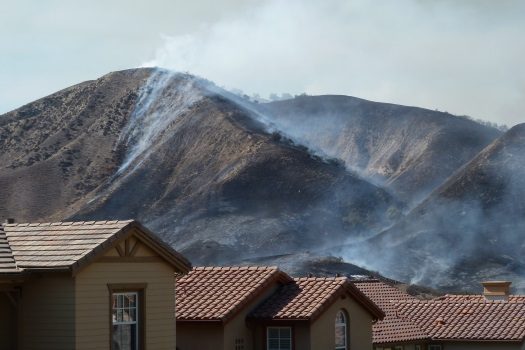 A Shliach in California had to pile his family into a car on Shabbos and evacuate them after flames from a wildfire threatened to engulf his Chabad House. The flames stopped a mere ten feet away from the center.
From the L.A. Jewish Journal:
There was no doubt in his mind about what to do when Rabbi Eli Friedman saw flames he estimated to be 30 or 40 feet high barreling down the hill behind Chabad of Calabasas on the afternoon of June 4: Even though it was Shabbat, he and his family piled into their car and drove away.
If there were any electronic messages ordering residents to evacuate in the path of a 500-acre fire that burned in Calabasas and Malibu over the weekend, Friedman and his family, who live in the Chabad house, would have missed them.
He told the Journal they had been watching the fire burn opposite the Mulholland Highway for much of the morning, when suddenly the flames were behind them.
"It was so sudden, ­– this wall of fire coming down the hill behind the Chabad house – that we evacuate in a hell of a hurry," he said.
The flames ultimately stopped about 10 feet short of the structure, he said, and though the evacuation order had been lifted by Monday, June 6, Friedman and his family are still staying at Chabad of West Hills to avoid the pervasive smell of smoke at their home.