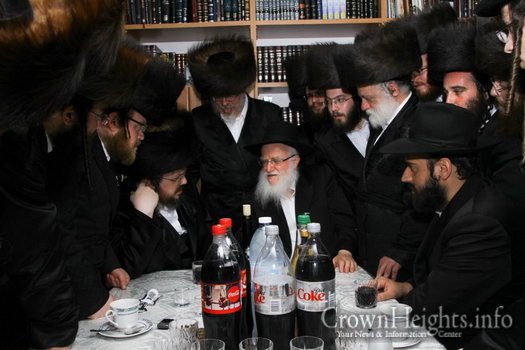 Photos by David Zehavi
In a sign that past tensions between Chabad and Belz in Eretz Yisroel continue to thaw, Rabbi Aharon Mordechai Rokeach, the son of the Belzer Rebbe Shlita, paid a visit to the home of Rabbi Moshe Havlin, Rov of the Lubavitch community in Kiryat Gat and head of the local Yeshiva.
The visit lasted for about half an hour, during which the two Torah luminaries discussed many concepts in Niglah and Chassidus.
Rabbi Havlin as well attended a recent event at the Belz Shul in Kiryat Gat, which is home to large communities of both Chabad and Belzer Chassidim.
This meeting follows the historic visit of the Lubavitcher Rebbe's Chozer, Reb Yoel Kahan, to the Belzer Rebbe in Jerusalem last November.
Photos by David Zehavi