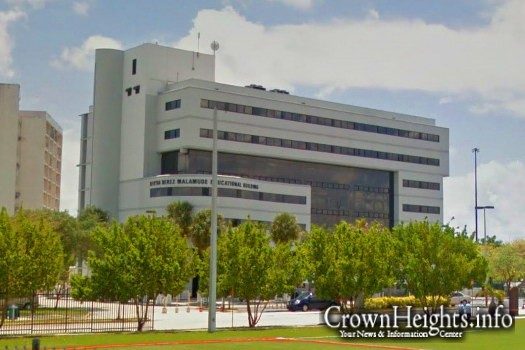 Lubavitch Educational Center, South Florida's flagship Chabad school, is currently in precautionary lockdown as police pursue armed gunmen after a dramatic car chase ended in the vicinity.
Several armed suspects were fleeing police in a vehicle, which came to an abrupt stop across the street from the school. The suspects then fled on foot.
Most of the suspects were subsequently caught and arrested by police, but at least one is believed to have sought refuge in a nearby housing complex and is being hunted by police.
In an abundance of caution, the school's security personnel have put the building into lockdown until all the suspects are confirmed to have been apprehended. Until then, no one will be allowed in or out of the building.
Please note that this lockdown is strictly precautionary. The school is not under any particular threat, and all the children are safe.
The school's administration sent the following notice to all the students' parents:
Parent Advisory
We wish to advise all parents that the Lubavitch Educational Center facility is presently on lock-down.  It has been reported that there are a few armed men in the neighborhood most of whom have already been apprehended by the police.  Miami Gardens police department is on site along with LEC security and are in full control of the situation. We will continue to keep parents updated.