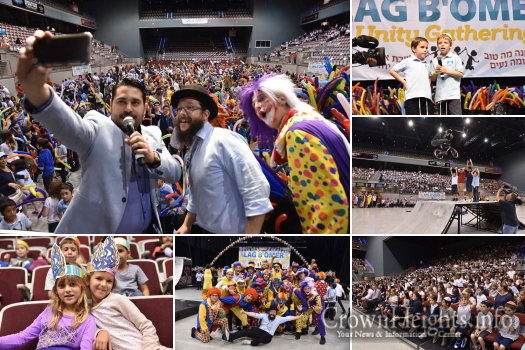 Thousands of students from schools across South Florida; from Miami to Palm Beach, came together in unity for an amazing program hosted in the Hard Rock Live Arena in Hollywood, FL, organized by Rabbi Shmuly Gutnick of Chabad Youth Network of Florida.
The music was booming, the children were singing and the feeling of unity and happiness were in the air.
The excitement began immediately, as the students entering the building were greeted by bochurim dressed as the dancing clowns.  Rabbi Shmuly G. welcomed each school, and as the crowd cheered the feeling of achdus and Jewish pride was felt by all.  Students from each school were called on stage to recite the twelve pesukim, and all shouted together 'We want moshiach now!' A dime to be given to tzedaka was handed out to the children.  Music played as Yakov Young lead the crowd in popular Jewish songs.
The students were in for a nonstop array of entertainment by the Lag B'omer Circus.  Starting with the BMX bike show, the stunts were astounding. Next the circus crew rolled in with the acrobats climbing ladders in midair, doing flips, handstands, and the incredible Pedro jumping rope while balancing on a ball. The fun continued with the Miami extreme team dunking basketballs in a most extraordinary way; flying over volunteers somersaulting in the air and swishing the ball straight through the net.
Rabbi Shmuly G. explained the significance of the day and concluded that being in a room with thousands of Jewish children from different cities and different schools joined together in unity is what it's all about. And in this honor may we merit the coming of moshiach now!
Kapitol chof of Tehillim was recited for all those in need of a refuah shelaima.
The event ended on a high note with an incredible surprise, as Jewish superstar Gad Elbaz wowed the crowd with his popular song Hashem Melech!
One student from each school won a prize, and each child received a balloon to take home.
Thank you to all the schools for joining in this great unity gathering. Thank you to all the volunteers for helping to make this event successful. Thank you to the sponsors for their generosity and making it all possible.
Special thanks to head shliach of Florida Rabbi Avrohom Korf, and to Yanky Fellig, Steve Rubin, Jeff Kramer, Dave Gold, Schurder Family, Cohen Family, Gutnick family, Akoval family, Korolitzky family, Albany Bakery, Kaplan family, Vail family, Schapiro family, Dina Calabro, Yakov Young, Greisman family, Rochele Barber, Sholom Friedman and to all the Bochrim from Coral Springs Mesivta, Klurman Mesivta, Boca Smicha Program, and the Bochurim of Yeshiva Gedola of Greater Miami.