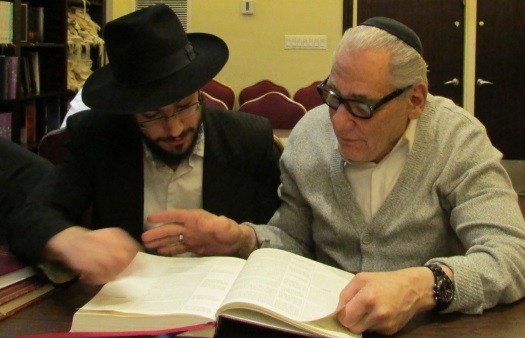 Rabbi Burt Siegel studying at the Chabad UES Kollel with Shmuly Silcove. Photo: Lubavitch.com.
After searching for years in ashrams in India and yeshivas in Jerusalem, Reform Rabbi Burt Siegel finally reconnects with his Judaism — in a New York City Chabad House.
From The Times of Israel by Cathryn J. Prince:
Each morning, as Rabbi Burt Siegel winds the soft leather straps of the tefillin around his arm, he marvels at how perfectly comfortable and at peace he feels.
What's surprising is that Siegel is a Reform rabbi who never prayed with the phylacteries donned by Orthodox Jews. That is, until a year ago.
"It was a powerful experience," the 76-year-old rabbi said. "It was like bolts of electricity were going through me. It was one of these 'Yes, now I know' kinds of experiences."
Now he knows. In many ways those three words are like the "You Are Here" notation on a department store directory. Although instead of shopping for clothes and furnishings, Siegel has spent the better part of seven decades searching for spirituality.
Siegel is the adored Rabbi Emeritus of The Shul of New York, a Reform congregation in Manhattan's Lower East Side he founded 14 years ago. But he recently started praying with Chabad, an Orthodox Jewish Hasidic movement. It's a sign of how far he's come on his quest to live a more full-bodied Jewish life — a trek that includes stops at rabbinical school in Cincinnati, ashrams in India and two yeshivas in Jerusalem.