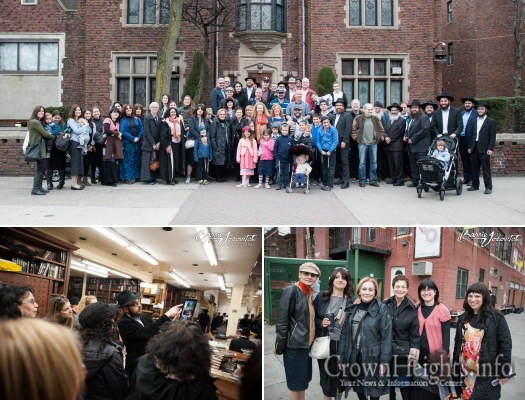 Tri-State Jews Gather in Crown Heights for Hakhel
Last week Sunday, the third of Adar Sheini, shluchim and their communities from across the Tri-State area, including a large contingent from Philadelphia and a group of students from Tufts University – graduates of the acclaimed JLI Sinai Scholars program – came to Crown Heights for a full-day Jewish Unity Experience in honor of Hakhel, coordinated by the Merkos Suite 302 Hakhel Office.
Allison Mile, one of the participants, described her feelings: "The Rebbe's resting place and office have a sort of mystical vibe; I was very moved and I felt very much at peace. It was also so interesting to see a whole community of Jews who live like the Torah teaches. I can't wait to come again!"
Rabbi Moshe Brennan, shliach in Wynnewood, PA, described it as follows: "Everything was first-class, from the accommodations, to the speakers, to the children's program. I have brought bus loads of people to the Ohel and Crown Heights before, but this time was something else. I can confidently say that my community was truly impressed and inspired, far beyond what they expected."
The visit kicked off with a special address by noted author and speaker, Rabbi Shais Taub, on the meaning of visiting the Rebbe. Participants wrote pa"nim and visited the Ohel, then enjoyed a scrumptious brunch with words of inspiration from Rabbi Mendel Samuels, shliach in Farmington Valley, CT.
Participants were able to choose from a range of fascinating lectures by Rabbi Yosef Gopin, Rabbi Yossi Paltiel, and Mrs. Chanah Morozow, covering such diverse topics as Hakhel, Purim, positive thinking, and the role of the Jewish woman.
Rabbi Motti Seligson, media director at Chabad.org, led a fascinating guided visit to Lubavitch World Headquarters – 770, focusing on its history and the message it signifies. Rabbi Yossi Engel, shliach in Adelaide, Australia, accompanied the crowd to the Rebbe's room, where he explained the concept of Yechidus and the way it evolved over the years of the Rebbe's nesius.
In preparation for Pesach, some participants enjoyed an exciting, hands-on, visit to the Crown Heights Matzah Bakery and the offices of Machon Stam. Women got to tour the Crown Heights Women's Mikvah, some of whom had never seen a Mikvah before.
"It was especially amazing for me to see how some of the participants were affected by the vibrant Jewish life they witnessed," said Rabbi Mordechai Morozow, event coordinator. "The sight of baking Matzah, or forming Tefillin, made a very powerful impression. In fact, one person was so inspired that he put on Tefillin for the very first time in his life."
Rabbi Moshe Kotlarsky, vice-chairman of Merkos L'inyonei Chinuch and Executive Director of Merkos Suite 302, shared some words of inspiration with the participants. "Hakhel recurs every seven years, yet each time it brings something new to the table, just as these communities transformed their Hakhel year by coming to the Rebbe. The lesson of this Hakhel get-together is to take a routine event on the calendar and use it to strive higher, to become better, to transform first that occasion, and then to transform the entire year."
The children had their own fun-filled and meaningful track, coordinated by the Merkos Suite 302 CKids division. They discovered the meaning of visiting a Rebbe, got the opportunity to write their very own pa"nim, and visited the Ohel; they then had an all-inclusive tour of the world-classJewish Children's Museum.
The final touch was an exquisite gala banquet at the Jewish Children's Museum to mark the occasion. Stuart Friedman, a participant on the trip, addressed the crowd. He shared how he had been to the Ohel and Crown Heights before, but he "had never been so inspired like today." He explained, "My rabbi often speaks about this year being a year of gathering, a Hakhel, but now I really get it. I feel the closeness, vitality and inspiration that are a unique part of coming here, to the Rebbe. I can truly say that today was one of the best days of my life."
"Throughout 5748, the Rebbe strongly encouraged people to come visit the Nosi. The Rebbe even said it would bring tremendous 'nachas ruach'," said Rabbi Mendy Kotlarsky, Director of Merkos Suite 302. "I'm gratified that we were able to lend a helping hand to these shluchim and communities so they could bring the Rebbe this nachas, and I hope to give the opportunity to as many more people as possible."