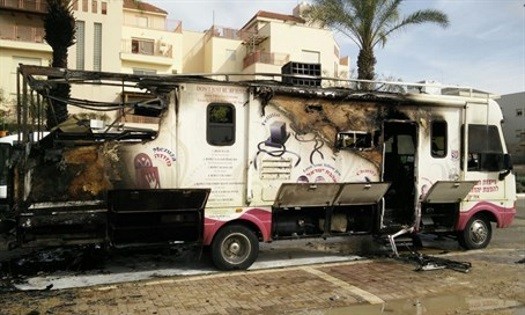 A Chabad 'Mitzvah tank' in Israel went up in flames during a public reading of the Megillah on Purim, but miraculously, all those inside escape unharmed.
From Arutz Sheva:
A Chabad "mitzvah tank" went up in flames in central Tel Aviv on Wednesday during a public reading of Megillat Esther for the Purim holiday, but in a miraculous turn of events no one was harmed.
Around 40 people were inside the "tank" at the time, but they managed to escape the burning vehicle unscathed – incredibly sets of tefilin (phylacteries) and talitot (prayer shawls) in the vehicle also were found whole in the burnt out vehicle after the fire.
Rabbi David Nachshon, CEO of the Chabad Mitzvah Mobiles, said, "the merit of those conducting the operations of the Rebbe saved them."