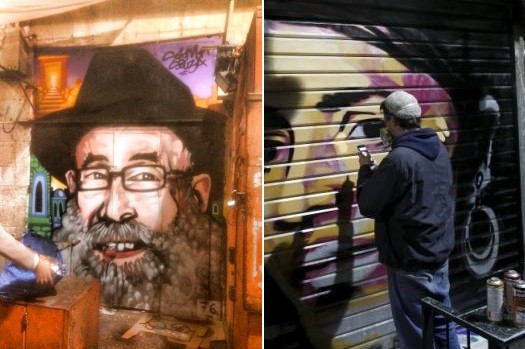 Reuters today profiled the work of graffiti artists Solomon Souza and Berel Hahn, whose murals of Jewish heroes add vibrant color to the Machane Yehudah marketplace in Jerusalem. Among those adorning the Shuk's walls and shutters is a mural of R' Shlomo Lakein, OBM, a Crown Heights educational pioneer who founded Yeshivas Darchei Menachem.
From Reuters:
A smell of spray paint drowns out the odor of fresh fish and meat as night falls on bustling Mahane Yehuda, a food market that is one of Jerusalem's most popular shopping sites.
From early morning until late evening, the Israeli market's narrow, covered alleys are packed with local shoppers and tourists pushing their way past packed stalls in search of the best fresh produce or juicy kebabs.
But after dark, when the stall owners shut up shop for the night and roll down their metal shutters, the closed storefronts become a personal canvas for 22-year-old artist Solomon Souza.
In the past year, Souza, helped by his friend, Berel Hahn, who came up with idea, has painted about 140 shutters with graffiti-style murals of characters that have inspired him, ranging from biblical heroes to former Israeli prime ministers.
Click here to continue reading at Reuters.