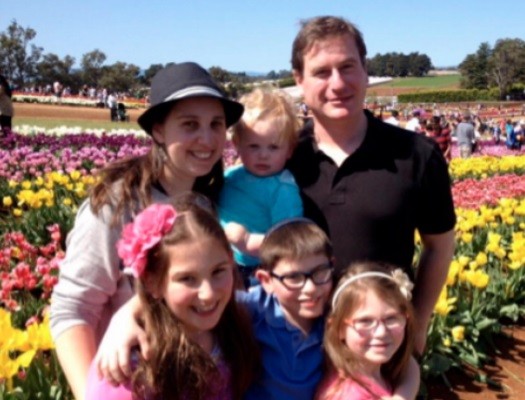 Jacqui and Yitzchak Rosen and their children recently took a holiday in a resort near Melbourne, Australia. The night before the family was due to drive home, Yitzchak Rosen – an alumnus of Chabad's Yeshivah Centre – went to take the rubbish out of their apartment rental and never came back. Yitzchak was found hours later, unconscious, having suffered severe head injuries and hypothermia. He was airlifted to the Alfred hospital, where surgeons worked furiously to try to save his life. Unfortunately, this was not to be.
There are now four young children without a father, the primary income earner. The medical battle is over but the emotional turmoil and harsh financial realities are just beginning. Yitzchak was a 36-year-old lawyer with an emerging practice. They were a young couple, actively involved in their community. Without his income, Jacqui will not be able to deal with the expenses that lie ahead. Jacqui and their children have already endured too much. We must rally around them as a community to help Jacqui and their children during this tragic time and assist them in the future.
With thanks to Melbourne Jewish Charity Fund, donations over $100 are tax deductible and funds raised will go directly to support Jacqui and their 4 children for living expenses, medical insurance and meeting the family's immediate needs while they grieve this immense loss.
Melbourne Jewish Charity Fund (MJCF) assists needy members of the Melbourne Jewish Community in meeting expenses associated with basic necessities. To make a donation to MJCF and to request a preference that this money be directed to the Yitzchak and Jacqui Rosen family, please donate on this page. Please note that any money raised by MJCF can be used for any of its purposes, however, your preference will be taken into account.
For more information, or to request a monthly direct debit, please emailyitzchakrosenfamily@gmail.com with your contact details.
The target is $600,000 – please help make it happen. Visit https://chuffed.org/project/helping-jacqui-and-the-kids.