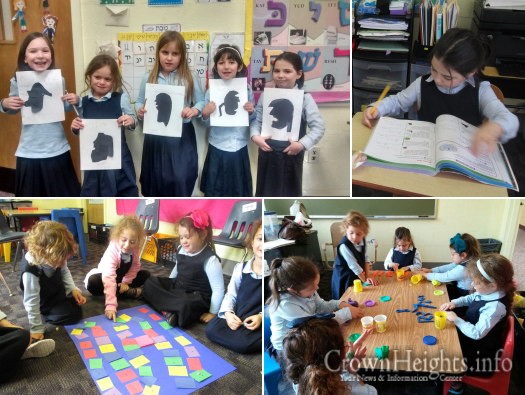 Long Island Girls' School Off to an Amazing Start
Cheder Chabad Girls of Long Island opened its doors for students on September 1st with pre1a, 1st and 2nd grades.  It is located in Lynbrook, NY.
Mrs. Shaina Gurkov serves as Academic Director, and is the 1st and 2nd grade secular studies teacher. Mrs. Gurkov has her master's degree in education, as well as many years of teaching experience.
Mrs. Gurkov is very excited to be on the ground floor of this exciting new Chabad girl's school and have an opportunity to teach our young daughters. Her own daughter, in fact, is a student as well.
"I feel privileged and proud be a part of this monumental project and to make this first year a great success, i"yh."Chanoch Lenaar Al Pi Darko" is the approach we are striving to achieve with each one of our students, doing so in a conducive and chassidish environment while providing the highest standard of education."
The Cheder has a dual curriculum of both Judaic and secular studies.  In addition to learning important academic skills, such as kriah, chumash and math, there is a strong focus on Toldos Chabad and Chassidishe Hanhaga.
Our teachers strive to make learning hands-on and our small class sizes enable each student to have one-on-one attention, according to her needs.
Our location enables both Shluchim and Anash families to benefit from the chinuch being offered.
As Shlucha  at Chabad of South Bay Long Island,  Devorah Edelkopf explains, "I am so grateful my daughter is attending Cheder Chabad Girls of LI . It's a dream come true. Having a Chabad school here on Long island enables her to receive a top notch chinuch like I myself had growing up. The administration has put together a professional curriculum, and is doing a marvelous job to ensure that the school is well run. My hope is to see the school grow in all aspects and for it to continue with much success in the future!"
Mrs. Edelkopf's, 2nd grade daughter Vichna, had this to share about her school. "I enjoy school because we learn Toldos Chabad, all about the Rabbeim. Morah Shaindy tells us many stories about the Baal shem Tov's life that are so interesting to hear. My favorite subject is journal writing especially when we can choose what to write about. Other times we write about different topics and then Morah combines all our ideas together on the board."
"It has been a lot of  planning and work, but Baruch Hashem the year is going very well. Students and parents are delighted," announced Mrs. Devorah Rosenzweig,  Administrative Director. "The small environment, combined with the loving touch of competent, caring morahs is the driving force. It is great to have a local Lubavitch girls school! While my boys have the zchus to attend Cheder at the Ohel, only a 15 minute ride from the Five Towns area, my older girls have traveled and continue to travel to Crown Heights schools.  For the younger children, the commute is difficult. Baruch Hashem, I am thrilled beyond words to have this small nurturing environment for my daughters, so close to our house!"
Local parents are very pleased. "We couldn't be happier with the Girls Cheder of Long Island. The staff all works so hard and are so devoted to the students.We were hesitant at first (because it was a new school), but now we're confident that our daughter is in great hands. Our daughter is always so eager to go to school and always comes home with a smile. Best desision we've ever made," offered Five Towns residents Mendy and Chana Herz.
Cheder Chabad Girls of Long Island will be having an open house for prospective families on January 18th from 8:00pm -9:45pm. Planned classes for next year are pre1-4th grade.  RSVP appreciated. For more information email chedergirlsli@gmail.com or call/text 516-447-1770. Cheder Chabad Girls of LI plans to gradually expand each year through the 8th grade.