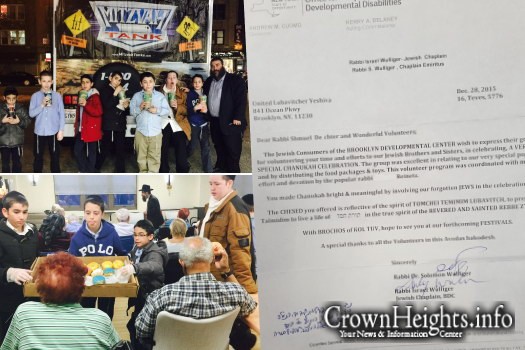 On the 3rd night of Chanukah, a group of talmidim from ULY-Ocean Parkway, led by Rabbi Moshe Reinitz, traveled to the Brooklyn Developmental Center in Spring Creek, Brooklyn, for an evening of Chesed.
The boys made the trip by mitzva tank, which they had collected money for on their own and rented all of Chanukah.
Chaplain of the center Rabbi Shlomo Wulliger organized a Chanukah party for about 400 developmentally handicapped Jewish people at the center, with musical entertainment, food, and hundreds of gifts distributed, with the able help of Rabbi Srully Wulliger.
The students interacted with the attendees, distributing the gifts and dancing with them, bringing real simcha into their lives.
Volunteers from Bais Rivka and Bnos Menachem also assisted with the women who were there, and this was coordinated by Mussi and Shaindy Reinitz.
Last week, a letter of gratitude was received by the students on behalf of all the people who attended, signed by Rabbi Wulliger (see below). In a phone conversation with principal Rabbi Shmuel Dechter, he said,"I am so proud of the talmidim of Lubavitcher Yeshiva for so graciously coming and entertaining a population that others seem to forget."  He added, "this proves that the holy chinuch of ULY is not just an intellectual learning experience, but one that is transmitted  with  love and warmth in the spirit of the Lubavitcher Rebbe, ZTL."