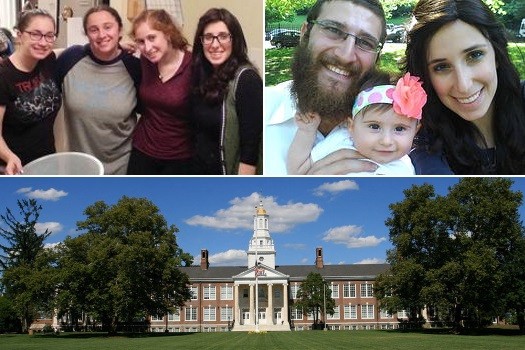 Rabbi Hersh and Fraidy Loschak, top right, direct Chabad activities (top left) at Rowan University (bottom).
Swastikas Carved at Rowan University – Again
One week after they were found carved into the stairs of  a residence hall, the swastikas at New Jersey's Rowan University reappeared.
From Philly.com:
Swastikas and other anti-Semitic markings were first discovered Dec. 3, carved into wooden doors in Chestnut Hall, a freshman residence hall on the Glassboro campus of Rowan University. That weekend, an email blast went out decrying the graffiti.
On Dec. 10, swastikas reappeared in the dormitory. This time, instead of being on doors inside a residential suite, the markings were carved into the Sheetrock sides of a stairwell.
"This happened a second time," said Rabbi Hersh Loschak, co-director of the Rohr Family Jewish Student Center-Chabad of Rowan University. "Someone is going around with intention to spread hate. This isn't just some racial thing on a bathroom stall. This is someone that really wants to express hate on our campus."