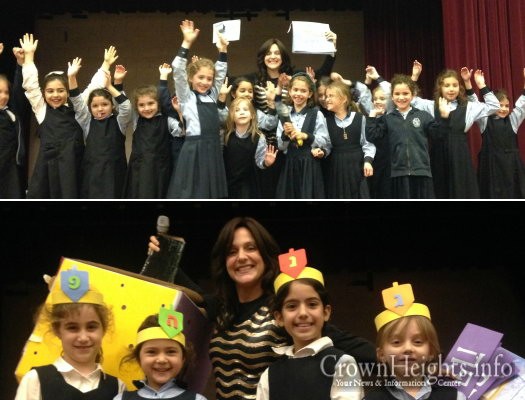 Last week, the girls at Bais Rivkah in Crown Heights were treated to an exciting song-and-dance event with children's entertainer Rebbetzin Tap. The concert featured original songs from her DVDs "Get Ready for Shabbos" and "Jewish Holiday Celebration," including her Chanukah song "The Biggest Light."
"We can be the biggest light," says Rebbetzin Tap. "That's my goal – to bring out the joy in Jewish life, and encourage kids to shine their special light."
The show was Interactive and dynamic, with the girls involved and up on stage throughout, complete with fun hats and props, including a giant dreidel.
"The girls were absolutely in tap dance heaven," said Mrs. Slavin of Bais Rivkah. "They loved all the songs. The teachers got into it with the kids. It was truly unique."
Off stage, Rebbetzin Tap is Kerry Bar-Cohn, mother of four, living in Ramat Beit Shemesh, Israel. She works as a chiropractor as well as a tap dance teacher. Apart from concerts for kids, she does motivational speaking for teens and adults. Her latest DVD is called "You Can Dance," a sing and dance along featuring songs from top Jewish female artists.
"It's amazing how powerful song and dance is," adds Rebbetzin Tap, "in helping us connect to ourselves and give light to the world."
Rebbetzin Tap will be offering a 6-week online tap course for ages preteen and up, starting December 27. For more info, go to www.RebbetzinTap.com.