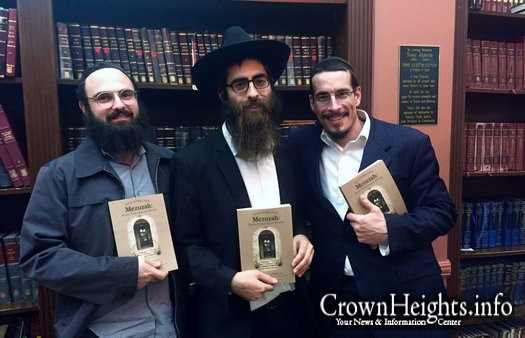 Left: Rabbi Dovid Feld, (architect and illustrator), center: Rabbi Dovid Bressman (author), right: Rabbi Dovid Diamand (English editor).
It's no secret that it takes a village to raise a child; so then it's no novelty that it would take a community to publish the most thorough and exhaustive book available today on the laws of Mezuzah.
Rabbi Dovid Nissan Bressman has published, and is currently offering, his first halachic book: "Mezuzah Divine Protection and Blessing.
Members of the anash community in Los Angeles pooled their respective talents in this unprecedented undertaking in order to create a user friendly halacha guide book on Mezuzah. This book covers all Halacha questions on Mezuzah from purchasing to placing it in your home in the right way. The book includes professional illustrations, halacha lemaase for all customs and circles, and was praised by Anash Robanim worldwide. This is must book for every Shliach and Anash homes.
Full Story
"It turns out there was not one book in English that covers all halachos on Mezuzah including Chabad customs", says Rabbi Dovid Bressman, a Rabbi and Sofer in Los Angeles, "so I took it as a personal mission." Needless to say that his personal experience working in Anash homes and with the diverse Jewish community in L.A. reflected the necessity of an authoritative guide book in which everyone (from laypersons to rabbis) can find an answer to his or her question or scenario.
Together with the assistance of Sta"m Posek Rabbi Moshe Weiner from Yerushalaim, Rabbi Dovid Feld and Rabbi Dovid Diamand, friends from his community in LA, the team worked on this project for over two years. Rabbi Bressman did not hesitate to tackle any unclear perceptions and even the biggest misconceptions, including "heker tzir" that affects the way one places a mezuzah according to Chabad custom.
This book covers every topic relating to the mitzvah of mezuzah, including but not limited to: purchasing, mezuzah checking, mezuzah cases, mezuzah affixing, and moving in and out of a home.
Rabbi Bressman concludes: "The laws and customs of affixing a mezuzah are some of the most complicated topics in Halacha, yet we all have to do them on a regular basis in our homes and workplaces. I am certain that this book will be your best help."
The Book received Haskamos from the following Robbonim: Rabbi Moshe Wiener – Yerushalaim, Israel; Rabbi Levi Yitzchak Raskin – London, England; Rabbi Yochanan Gurary – Holon, Israel; Rabbi Gedalia Dov Schwartz – Chicago, Illinois; Rabbi Gavriel Zinner – Brooklyn, NY; Rabbi Dovid Schochet – Toronto, Canada and Rabbi Mordechai Friedlander – Yerushalaim, Israel.
The book can be purchased at bookstores in Crown Heights and on Amazon.com.