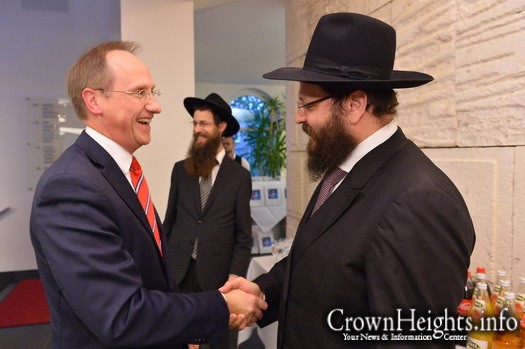 Member of the German Bundestag Klaus-Dieter Gröhler with Rabbi Yehuda Teichtal.
On the occasion of Rosh Hashana, the Jewish Educational Center Chabad-Berlin welcomed German politicians and public figures for a reception. Ambassadors, ministers, government members and representatives of parties gathered at the annual new year reception to commemorate the beginning of the Jewish year 5776 and express the importance of supporting Jewish culture in Berlin.
"Especially now with the refugee crisis unfolding in Europe, we find it of utmost importance that the German government officials as well as the public figures see the necessity of intercultural coexistence within one country. We stand together in these difficult times, ready to support each other," said the rabbi of the Jewish Community in Berlin and the head of Chabad in Berlin Rabbi Yehuda Teichtal.
"The outreach work of the Chabad center strengthens Jewish identity and awareness and brings more understanding and tolerance among cultures; this is especially important today," noted Klaus-Dieter Gröhler, the member of the German Bundestag.
After the official part of the program, a reception with kosher snacks took place in the main hall of the Jewish Educational Center.