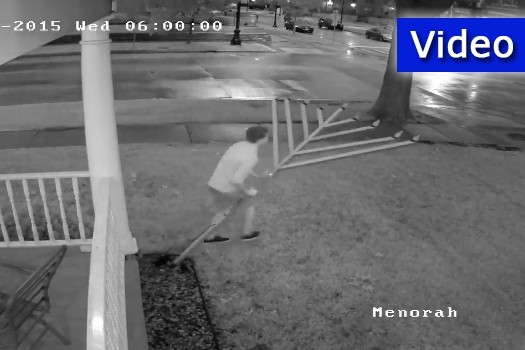 A Parkland College student who lives in Champaign, Illinois, has been charged with a Class 4 felony for allegedly damaging a religious symbol at a campus Jewish gathering place.
Max Kristy, 20, who listed an address in the 400 block of East John Street, was arraigned Tuesday on the charge after he was identified as the person who allegedly pushed over a 9-foot menorah in the yard of the Illini Chabad Jewish Center, 509 S. Fourth St., C, on Aug. 19.
His seemingly purposeful vandalism just before 6 a.m. that Wednesday was captured on video surveillance and led to his identification by an anonymous caller after pictures of the incident were widely disseminated.
University of Illinois police interviewed Kristy Aug. 25 and learned he had been out drinking at campus bars with friends prior to the vandalism and that he planned to take the menorah to a friend who is Jewish. UI police head investigator Tom Geis said based on the interview, the incident hasn't been classified as a hate crime.
Click here to continue reading at The News-Gazette.