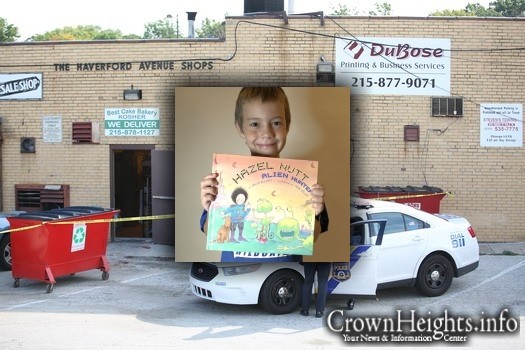 On Friday, August 7th, at around 6:00am, Ziza Djordjevic, 56, owner of the kosher Best Cake Bakery, was smoking a cigarette behind her establishment, when 2 men approached her, shot her in the face, and ran off with her apron, which is where they must have known she keeps her money.  Every Friday she brings in cash to pay her workers.
She managed to call 911, and is now in stable condition at Penn Presbyterian Medical Center.  The bullet passed through her windpipe and lodged in her spine. She is now conscious but can only communicate through writing, which is difficult for her.
Shmuel Hoffman, video producer, director, and cinematographer, and a recent transplant to Overbrook Park, was on his way to Best Cake to buy challahs for Shabbos a few hours after the shooting, when he heard the news.
"I was shocked. Best Cake is right around the corner from us!  We walk by it on our way to shul at Chabad of Penn Wynne.  And Ziza is such a nice woman, always giving my kids free samples of her famous 'Asian' cookies."
Hoffman is not the only recent transplant; within the last year 10 families have moved to the area joining the Chabad of Penn Wynne community.  "This was a total shock to us.  This is not the kind of place where crimes like this happen. It was a targeted assault, as clearly the assailants knew her schedule and when she'd have money on her."
He added, "We love it here and get along very well with our African American neighbors, even Muslims.  We see the community growing.  After having lived in Jerusalem where we were a part of the Mayanot community, our standards are high, but I can honestly say that living here has been fantastic."
Hoffman waited to tell his kids what had happened until he took them to visit Ziza in the hospital the following Monday, where he was joined by Rabbi Moishe Brennan of Chabad of Penn Wynne.
"A bunch of us in the community had the same idea: to show Ziza – who's not Jewish – our support, and our gratitude to her for servicing our community – by raising funds for her to help pay for what will likely be very high medical expenses."
Rabbi Brennan and Rabbi Gross of the nearby OU shul Beth Hamedrosh, launched a community-wide fundraising effort.
Hoffman's children were also inspired by the visit.  Moishe, age 8, doesn't have a way to earn money, so he decided to sell his favorite book on eBay and donate the proceeds to the fund for Ziza.
"The book wasn't getting any bids," says Hoffman's wife Chaya Margelit, "and then I posted it on local Jewish Facebook groups.  It's now less than 24 hours after I posted it, and we have 221 views, 14 bids, and the highest bid is now $37. Moishe is so excited!  It's a big lesson for him and our other children in the power of community, and in tzedaka."
Rabbi Brennan said, "We have a really strong community here, and I think this is clear proof.  How we rally together during tough times gives us a true snapshot of who are as a people: united."
From the letter Rabbi Brennan and Rabbi Gross sent out to their communities:
"Many of us were shaken by the news of the assault and robbery at Best Cake Kosher Bakery on Haverford Ave this past Friday.
"This crime was perpetrated by individuals who have no care or respect for other's property or lives. It is up to us to make it clear that we care! There are bound to be many out of pocket medical expenses that Ziza will incur on her road to recovery, not to mention the lost revenue for the days that the bakery has/will be closed."
Contributions for Ziza can be made here: www.chabadpennwynne.org/donate. Donors should be sure to list "for Ziza" in the notes.
Here is the link to Moishe Hoffman's book auction on eBay: http://www.ebay.com/itm/141742223181?ssPageName=STRK%3AMESELX%3AIT&_trksid=p3984.m1555.l2649