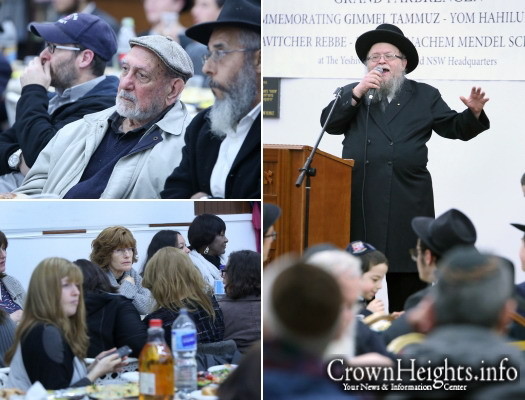 A grand Farbrengen was held at the Chabad Yeshiva Centre in Sydney, Australia, in honor of Gimmel Tammuz, marking 21 years since the passing of the Lubavitcher Rebbe, Rabbi Menachem Mendel Schneerson.
Though the hall was set for hundreds, many additional chairs were needed through the night as close to 400 people arrived to take part in the Farbrengen.
Rabbi Pinchus Feldman, OAM, Dean and spiritual leader of the Yeshiva Centre and Head Shliach to New South Wales, opened the evening with words of inspiration and encouragement.
"Marching Orders," a video presentation by JEM, was displayed with its moving message to all – a reminder of the extraordinary attention the Rebbe gave each person, and of the great charge the Rebbe has left with all of us to bring Moshiach.
The Keynote address of the evening was by guest speaker Rabbi Yisrael Deren of Stamford, Connecticut.
A special 28-page brochure was distributed, titled – The Visionary Leader Who Spoke One Language: Yours.
Many went away inspired and uplifted. As one person put it: My new passion is the Rebbe, I want to be like the Rebbe and help and inspire those around me to be better!
After the formalities, the informal Farbrengen carried on for many hours.
The Farbrengen was organized by Rabbi Elimelech Levy of Chabad Youth-NSW, in association with Our Big Kitchen, Music by Rabbi Yehoshua Niasoff and Pictures by Noel Kessel.
It was organized in conjunction with the following organizations: Bondi Shul, Chabad Bondi Beach (F.R.E.E.), Chabad Double Bay, Chabad for Travellers, Chabad for the Israeli community, CBD Chabad, Dover Heights Shule, Friendship Circle, BINA, Tzemach Tzedek Community Centre, Nefesh, North Shore Chabad & Young Adult Chabad.