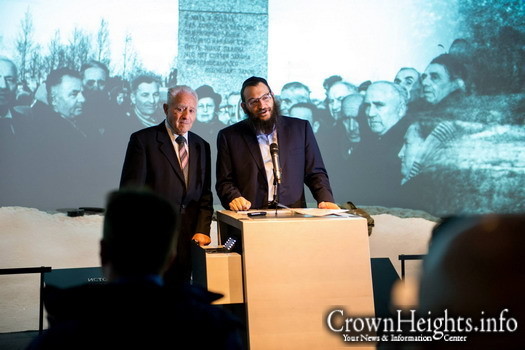 File photo: Rabbi Boruch Gorin speaks at an event at Moscow's Jewish Museum and Tolerance Center.
Chabad Rabbi in Russia Delivers Rare Rebuke to Putin
In a rare rebuke of Russian President Vladimir Putin's policy, a senior Chabad rabbi from Moscow expressed concerns over a bill aiming to limit foreign involvement.
Rabbi Boruch Gorin, aide to Chief Russian Rabbi Berel Lazar and chairman of Moscow's Jewish Museum and Tolerance Center, on Tuesday expressed his criticism of a government-backed bill on foreign-funded religious organizations during an interview with Russia's Interfax news agency.
"I have serious concerns about the bill," Gorin said of the proposed legislation, which a parliamentary committee recently approved and is set to be voted on in the Duma, the Russian parliament, on June 30.
The bill proposes to oblige religious groups to report every income from abroad to authorities, and is believed to be connected to a crackdown on Muslim extremists in Russia's southern republics and beyond.
But Gorin said the new law would complicate the work of his Federation of Jewish Communities in Russia and other Jewish groups whose incomes originate partly from donations by Jewish communities outside Russia. He added the bill would "increase the dependency" of religious groups on the government and heighten tensions with it.
Click here to continue reading at the JTA.