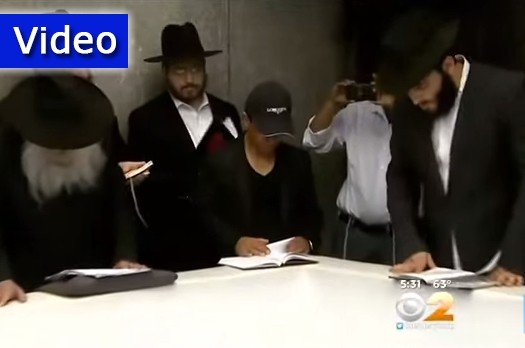 Jockey Prays at Ohel Ahead of Race
Victor Espinoza, a jockey who plans to compete in the upcoming Belmont Stakes horse race, visited the Lubavitcher Rebbe's Ohel in Queens yesterday to say a prayer – and perhaps get a dose of divine intervention.
From CBS New York:
The Belmont Stakes is the the kind of place where luck looms large. But the team behind American Pharoah is hedging its bets by locking in a little help from above.
Jockey Victor Espinoza, who is hoping to make history by riding the first Triple Crown-winning horse in 37 years, took a spiritual journey in Queens on Thursday, CBS2's Carolyn Gusoff exclusively reported.
Espinoza visited the grave site of Grand Lubavitcher Rebbe Menachem Schneerson, considered one of the most influential Jewish leaders of the 20th century.
Hundreds of thousands come to the cemetery every year 24/7 to pray.
Espinoza opened a prayer book, recited psalms, wrote out his own message and added his to a mountain of prayers at the sacred site.
"It's always ask for the most important, (which) is health," Espinoza said. "Without health, we cannot do anything."
Espinoza is not Jewish, but spiritual. He said after receiving a blessing from a rabbi at the Preakness last month, he scheduled the detour from his regular race prep for the Belmont.
"So much energy right here," he said. "It would kind of build you up right here. It's like good energy drinks."
"The resting place of a righteous person is considered a sacred place," said Rabbi Motti Seligson of Chabad.org.
"He believes with God's help and the rebbe interceding for him that's he's going to be very successful and very safe," said Mike Weitz, Espinoza's publicist.
Click here to continue reading at CBS New York, or here for the NY Post.