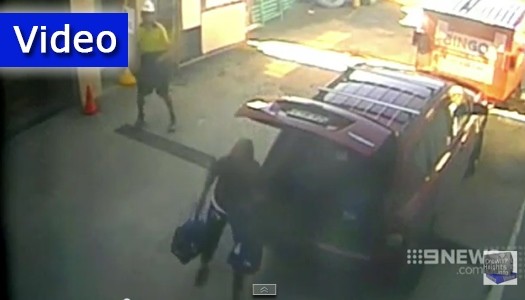 A businesswoman operating out of Chabad's non-profit 'Our Big Kitchen' in Sydney, Australia, was spared certain death when a kitchen staff-member alerted her to an out-of-control truck that was barreling towards her.
From 9 News Australia:
A security camera has captured the moment a Bondi woman leapt to safety immediately before an out-of-control truck wiped out her car.
Tess Ulvesund can be seen on camera diving out of the way as a 20 tonne runaway truck barrelled towards her down a steep driveway in Bondi.
The 31-year-old told 9NEWS she had no idea she was a split second from being killed.
"I looked up and saw this massive truck coming towards me and I just jumped out of the way," she said.
"The truck came rolling down and I could see a closing gap so I jumped between the truck and the wall."
Ms Ulvesund runs a cake manufacturing business from a community kitchen and was heading out to make a delivery last Thursday when the crash occurred.
"I don't think I realised how close it was until I saw the footage afterwards, and you just feel really lucky to be alive," she said.