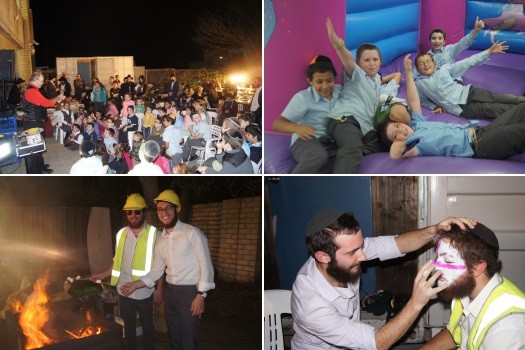 Lag Ba'omer at the Sydney Yeshiva Centre – Chabad NSW HQ this year was a wonderful experience. Live Music accompanied by the voice of Cantor Yehoshua Niasoff filled the air as the first logs of the bonfire began to catch fire. People came from all around Sydney to participate in this family-themed event, this year's first Lag Ba'omer celebration in the world.
Food galore was spread out for the taking, prepared by Chabad organization Our Big Kitchen. With an open Falafel bar, no one had to go away hungry.
The program began with MC Rabbi Elimelech Levy of Chabad Youth-NSW, who introduced Rabbi Pinchus Feldman OAM, Dean and spiritual leader of the Yeshiva Centre and Head Shliach to NSW, to speak of the greatness of the day of Lag Ba'omer.
Rabbi Leib Aber of Yeshiva College ran the children's rally; the 12 Torah Pesukim were recited, followed by Ardey the Magician, who entertained all present.
The Dancing around the fire was led by the Yeshiva Rabbinical Students, and accompanied with a live rendition of Bar Yochai with Cantor Niasoff.
Other entertainment included Face painting, two Jumping Castles and arts & crafts. The event finished as planned at 8:00pm.
A big thank you goes to all the organizations, sponsors, volunteers and participants who made this event a reality.