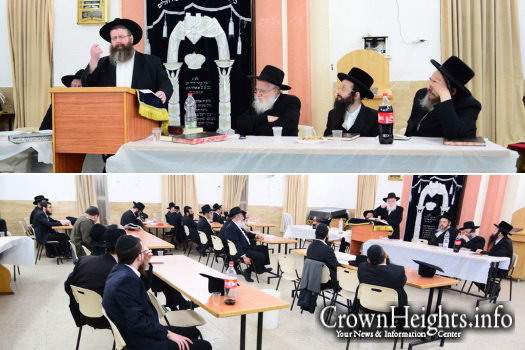 Kiryat Gat Unites in Display of Achdus
In accordance with the instructions of the Rebbe, the Chabad community of Kiryat Gat, Israel, gathered for an evening of Torah and unity, where they listened to Shiurim and Pilpulim from various local Rabbonim of all stripes.
The event – which took place in the local Chabad Shul 'Ohel Menachem' – was attended by over 100 members of the community.
Among the attendees were: Rabbi Moshe Havlin, Mara D'Asra and Rosh HaYeshiva; Rabbi Yehuda Leib Groner, a secretary of the Rebbe; Rabbi Chaim Binyomin Shatz, The Rov of the local Gerrer community; Rabbi Pinchus Padva, Rov of the Belz community; Rabbi Gedalia Rizl, Rov of the Slonim community; Rabbi Schapiro, Rov of the Boyan community; and Rabbi Yaakov Yosef Kuperman and Rabbi Menachem Mendel Reitzes, Magidei Shiur in the local Chabad Mesivta.
Photos by Levi Israeli