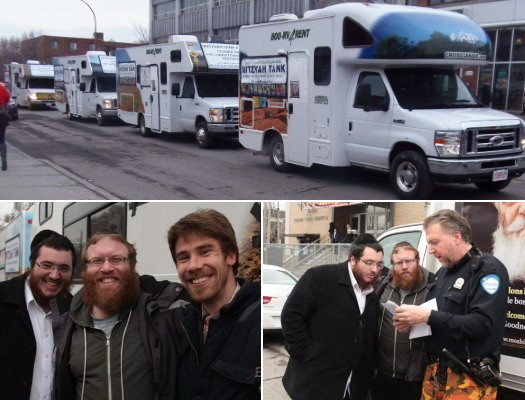 Last Thursday, in honor of the Rebbe's birthday, four Mitzvah Tanks paraded through the streets of Montreal after a GoFundMe campaign that raised over $400 plus donations from members of Montreal's Jewish community.
The parade was coordinated by Rabbi Mendy Wilansky, Yisrael Cohen and Avraham Menachem Freundlich – who met with police and mapped out a route that took them from the Lubavitch Yeshiva, past Beth Rivkah and through the Snowdon and Cote-des-Neiges areas, passing the Universite de Montreal, YM-YWHA, Federation building and JPPS.
Yeshiva students were in each "tank" armed with Tefillin, Shabbos candles and boxes of Shmurah Matzah. Following the parade, the tanks were sent out to various areas around Montreal where the boys handed out Matzah and candles, helped many Jewish men put on Tefillin, and guided every Jew they met with where to go if they are not hosting a Seder and what to do if they are hosting a Seder.