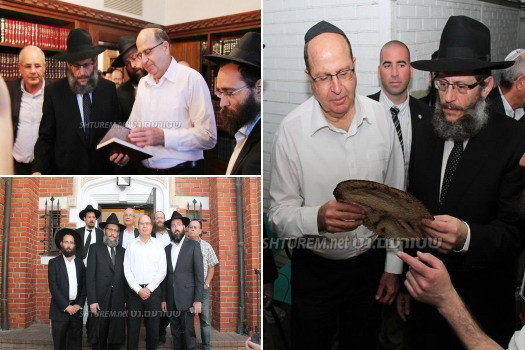 The Israeli Minister of Defense, Mr. Moshe Yaalon, paid a visit to Kfar Chabad today, the eve of Yud Aleph Nissan, in honor of the Lubavitcher Rebbe's 113th birthday.
Mr. Yaalon visited the "Rebbe's Room" in the replica of 770 in Kfar Chabad, as well as the town's famed Matzah bakery, where he was given a box of Matzos for his Seder at home following his tour of the establishment.
He was accompanied on his visit by Rabbi Y. Y. Aharorov, Chairman of Tzach in Israel, and Rabbi Binyomin Lifshitz, chairman of the Vaad of Kfar Chabad.
Photos courtesy of Shturem.net